The MACRA final rule makes changes in how Medicare pays physicians. Although the rule takes effect on January 1, most physicians are unprepared for its new provisions. That is a problem because MACRA will impact more than just reimbursement.
The new legislation links physician payment to documented and reported performance. As a result, the scope and importance of documentation in busy trauma surgery practices will become even greater under MACRA. This creates a challenge for trauma surgeons who already shoulder a heavy burden of clinical documentation and reporting.
What do trauma surgeons and other clinicians need to know about MACRA? The following Q&A from T6 Health Systems summarizes the key provisions of MACRA for trauma care providers. It also identifies opportunities for trauma surgeons to streamline documentation so they can better demonstrate quality in their practices and optimize their financial performance under fee-for-service and value-based payment models.
Q. What is MACRA?
The Medicare Access and CHIP Reauthorization Act (MACRA), bipartisan legislation passed in 2015, overhauls Medicare's physician payment system. MACRA repealed the Sustainable Growth Rate (SGR) formula and replaced it with a system that links payment more closely to performance. The overall intention is to shift the focus of our healthcare systems from providing high-volume care to providing high-value care.
Q. What payment system does MACRA create?
The new physician payment system is called the Quality Payment Program (QPP). Under the QPP, physicians have the opportunity to earn incentive payments or performance-based payment adjustments for providing high-quality, cost-efficient care; leveraging technology; and working to improve clinical practice.
Q. Which trauma clinicians does the QPP apply to?
All physicians who bill Medicare more than $30,000 per year and provide care to more than 100 Medicare beneficiaries per year will be paid under the QPP. However, physicians are exempt from the program during their first year of Medicare participation. The QPP also applies to physician assistants, nurse practitioners, clinical nurse specialists and certified registered nurse anesthetists, so the program's impact on a trauma team goes beyond the physician staff.
Q. What are the QPP participation tracks?
The QPP has two basic tracks—Advanced Alternative Payment Models (APMs) and the Merit-based Incentive Payment System (MIPS).
Advanced APMs are payment programs that incorporate incentive payments for high-quality, cost-efficient care and also include an element of financial risk related to patient outcomes. Currently, there are very few Advanced APM participation options for surgeons. As a result, the great majority of surgeons — and virtually all trauma surgeons — will take part in MIPS.
Q. So trauma surgeons need to focus on MIPS. How does that system work?
MIPS is based on physician performance in four categories:
Quality
Advancing care information
Improvement activities
Resource use
Physicians earn points within each category, and weighted category performance is used to calculate a composite performance score (CPS). Each physician's individual CPS will be benchmarked against peer performance to determine his or her individual payment adjustment. In 2019, the first QPP payment year, the maximum positive payment adjustment is 12% and the maximum payment penalty is 4%.
Q. What is the MIPS implementation timeline?
MIPS adjustments will apply to Medicare payments starting in 2019. However, data collection for the 2019 payment year begins January 1, 2017, and the performance period runs through the end of the year. All 2017 performance data must be submitted by March 31, 2018.
Physicians have four options for MIPS participation during the first year of the program:
Decline participation. If you do not submit any 2017 performance data, you will automatically receive a 4% reduction to your Medicare payment starting in 2019.
Test the program. If you submit a minimal amount of MIPS data (for instance, just one quality measure), you will avoid a negative payment adjustment.
Submit partial data. If you submit 90 days of MIPS data for 2017, you may earn a neutral payment adjustment or a small payment increase.
Submit full-year data. If you submit a full year of data for 2017, you may earn a "moderate" positive payment adjustment.
Q. Explain the quality category.
The MIPS quality category replaces and modifies the Physician Quality Reporting System (PQRS). Whereas PQRS required physicians to report data on 9 quality measures, MIPS requires data on only 6 measures. However, one quality measure must be an "outcome" measure.
For the 2017 performance year, the quality category determines 60% of your MIPS composite performance score. Starting in the 2018 performance year, it will be weighted 50%. The quality category should not pose much of a challenge for trauma surgeons, especially providers who are already reporting quality to the Trauma Quality Improvement Program (TQIP).
Q. What is the "advancing care information" category?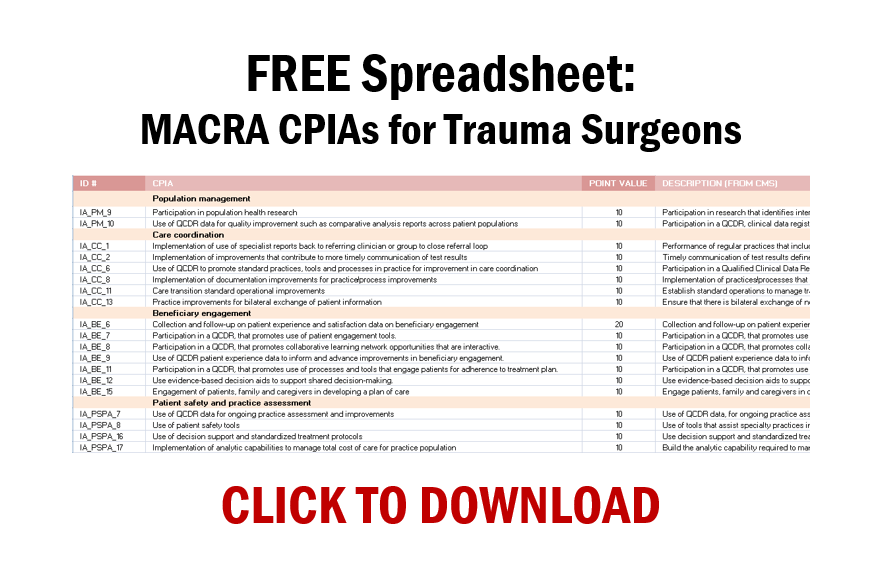 The advancing care information (ACI) component of MIPS replaces the Medicare EHR Incentive Program, which is also known as "Meaningful Use" (MU). Physicians can earn half of the available points by reporting data on 5 mandatory objectives. Earn more points by reporting additional data or by using an EHR to complete certain improvement activities (see the CPIA discussion below).
Again, trauma surgeons who are compliant with MU should have little trouble with this category. ACI determines 25% of your composite performance score.
Q. What does the cost category require?
The cost category, which is also known as "resource use," replaces the Value-Based Modifier. Trauma surgeons will not be required to submit any data for this category. Instead, CMS will calculate each provider's cost score based on adjudicated claims.
In 2017 CMS will calculate each participant's cost category score, but will not use it to determine payment adjustments. Starting in the 2018 performance year, however, cost category performance will represent 10% of the composite performance score.
Q. What is the "clinical practice improvement activity" category?
While the other MIPS categories replace existing programs, the clinical practice improvement activities (CPIAs) category represents an entirely new concept in Medicare physician payment. To fulfill the requirements of this category, physicians must take part in activities that help improve care coordination, increase patient engagement, support population management and advance health equity.
The MACRA final rule lists 93 CPIAs in 8 broad categories:
Expanded practice access
Population management
Care coordination
Beneficiary engagement
Patient safety and practice assessment
Achieving health equity
Emergency response and preparedness
Integrated behavioral and mental health
As some of the CPIAs focus on long-term, outpatient management of chronic conditions, only about one-quarter of them are immediately applicable to trauma surgeons. However, the CPIAs that are relevant emphasize important priorities along the continuum of trauma care. To download a spreadsheet that lists 22 MACRA CPIAs that apply to trauma surgeons, click here.
During the 2017 performance year, the CPIA category requires attestation only. The CPIA category determines 15% of the composite performance score.
Q. What is the main challenge of MACRA?
Healthcare improvement always seems to depend on more onerous documentation, including surgeon-specific outcomes, billing, morbidity and mortality reporting, and performance improvement efforts. While MACRA consolidates several existing payment programs, it does create new documentation requirements, especially around quality improvement activities. To succeed under MACRA, trauma teams will need to find ways to improve data collection, consolidate data streams, and streamline documentation workflows.
Q. Does MACRA present any opportunities to trauma providers?
Yes. For the past five decades, trauma systems have blazed the trail of data-driven performance improvement. Now that our healthcare system is embracing performance improvement and value as key principles of payment, trauma leaders have an opportunity to take quality improvement in trauma to more detailed and more universal levels.
The trauma community also has an opportunity to be imaginative and creative in the way it informs the development of quality metrics in payment systems. The implications are big. When payment is linked to sensitive and specific indicators of performance and quality of care, our trauma services and our patients stand to benefit greatly.
This article was sponsored by T6 Health Systems, a new generation of technology designed to work together with your EHR as a composite solution to improve care experiences and clinical outcomes — and reduce costs — by harnessing and maximizing the potential of point-of-care data analytics to transform the way you practice medicine in the age of MACRA. To find out more, see the message below or visit our website. 
Reduce MACRA compliance burden and drive quality with T6 point-of-care documentation and rich data analysis

MACRA adds to the burden of documentation and establishes new clinical improvement requirements. T6 Health Systems addresses both problems with a digital technology that simplifies data capture and uses powerful analytical tools to drive quality improvement.

T6 is a mobile, interoperable digital platform for trauma teams. Its intuitive user interface allows providers to capture rich clinical data at the point of care. On the back end, T6 streams time-stamped, high-definition data to a spectrum of databases and real-time analytic algorithms. The system streamlines the way trauma surgeons document care, bill for services, and use data to improve the performance of trauma systems.

For trauma providers struggling to respond to MACRA, the T6 system facilitates the fulfillment of Clinical Practice Improvement Activities (CPIAs) across the range of categories:

Care coordination: T6 performs automatic, high-resolution, multi-dimensional clinical documentation. Interactive reports are continuously generated for evidence-based performance improvement.
Patient safety and practice assessment: Clinical data entered at the point of care trigger the display of evidence-based guidelines. Prognostic scores are instantly available to inform decision-making in real time.
Population management: T6 uses trauma data to estimate patient-specific personnel, supply, equipment and space costs, creating unprecedented opportunities to find efficiencies and reduce variability along the continuum of trauma care.
Beneficiary engagement: Patient interfaces enhance the use of patient-reported data to guide trauma system improvement, including substance use reporting and intervention.
Achieving health equity: T6 can send data in real time to registries and geographic information systems. This allows trauma teams to assess population-based vulnerabilities and identify rich opportunities for injury prevention and research on the social determinants of health.

FREE Spreadsheet: In all, about two dozen MACRA CPIAs are immediately applicable to trauma surgeons. To download a spreadsheet that details the 22 CPIAs that trauma surgeons should know about, click here.