Some endovascular trauma procedures are relatively uncommon. Given that fact, a robust quality assurance strategy is an essential part of any endovascular trauma program.
Risk mitigation for endovascular trauma
"The best way to mitigate the risks is to prepare and plan for them," said Megan Brenner, MD. For REBOA and other endovascular procedures, it is important to identify the potential pitfalls. "Understanding the pitfalls at each step, the resultant complications, and knowing who can help when these occur are important to a successful REBOA program."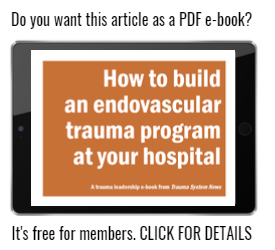 Program leaders should create protocols for mitigating the risk of the most common complications. "Patients who receive REBOA (or any endovascular procedure) require monitoring and surveillance both during and after the procedure, particularly at the access site and the distal extremity," Dr. Brenner said.
In general, education and training are invaluable for reducing risks associated with endovascular trauma cases. "And this should be a multi-disciplinary effort — with trauma, anesthesia, interventional and vascular surgery colleagues — as they will all likely be taking an active role in the care of these patients," Dr. Brenner said.
Endovascular trauma management and PIPS
The goal of trauma performance improvement and patient safety (PIPS) is to continuously improve the care delivered to injured patients. A strong PIPS effort is especially important for an endovascular trauma program.
"Some of the things we do in endovascular trauma management are on the leading edge and at this point not necessarily supported by large data sets," said Melanie Hoehn, MD. "So it's very important…
This is Part IV of How to Build an Endovascular Trauma Program at Your Hospital
Click below to jump to any section:
Intro – Trends and barriers
Part I – Creating the endovascular trauma team
Part II — Essential equipment and supplies
Part III — Training physician and nursing staff
Part IV — Ensuring quality and patient safety
…that you review your cases to make sure you're using these endovascular resources and tools responsibly."
Since endovascular trauma management is multidisciplinary in nature, it is important to involve interventional radiology and vascular surgery in the PIPS process.
According to Juan Duchesne, MD, endovascular PIPS teams should look at several metrics. "Number one is time to response for endovascular surgeons or interventional radiologists," he said. "The other item that needs to be monitored is time to puncture, which is definitely an indicator that the patient was promptly intervened." His team also monitors patient endpoints. "We need to make sure patients are leaving the endovascular room with good hemodynamics."
According to the recent joint statement from the ACS Committee on Trauma and the American College of Emergency Physicians, a REBOA quality management program should specifically evaluate "(1) each placement for appropriateness and complications to maximize patient safety and (2) availability and timeliness of definitive surgical or angioembolic control of bleeding following REBOA."
Dr. Brenner emphasizes the importance of consistent case review for REBOA and other endovascular procedures. "Quality assurance measures should be in place at each institution and REBOA cases reviewed routinely, regardless of outcome," she said. "So much can be learned and taught from each and every one."