Since many trauma surgeons and trauma nurses have little or no training in endovascular techniques, new endovascular trauma programs must make education a priority.
Endovascular training for trauma surgeons
For many trauma surgeons today, the focus of endovascular training is learning to perform REBOA.
"The most challenging part of REBOA training is common femoral artery (CFA) access," said Megan Brenner, MD. "This finding mirrors our published experience demonstrating that CFA access is the rate-limiting step to REBOA."
Dr. Brenner is a trauma and vascular surgeon, and the creator and chair of the Basic Endovascular Skills for Trauma (BEST) Course, which is the third surgical skills course to be offered by the ACS Committee on Trauma.
"Students enter the course with varying degrees of endovascular skills, and choosing the right training module depends on comfort with percutaneous and open surgical CFA access," she said. "That's why our perfused cadaver model is a critical part of the BEST Course."
However, Dr. Brenner said there are other options for REBOA training. "Physicians who are already proficient with percutaneous and open surgical CFA access skills, or who are interested in an introductory REBOA course, can benefit from the BEST Workshop which uses didactics and synthetic simulators for instruction." In addition, there are many other REBOA courses offered throughout the U.S.
Sustaining endovascular skills
Once a trauma surgeon has received initial endovascular training, how does he or she sustain those skills long-term?
"Skills sustainment for REBOA is an area of ongoing investigation," Dr. Brenner said. "Placing CFA arterial lines in patients who need continuous monitoring and may be potential REBOA candidates is a good start. Surgeons can also review course slides routinely and make time to 'practice' the steps of the procedure, either…
This is Part III of How to Build an Endovascular Trauma Program at Your Hospital
Click below to jump to any section:
Intro – Trends and barriers
Part I – Creating the endovascular trauma team
Part II — Essential equipment and supplies
Part III — Training physician and nursing staff
Part IV — Ensuring quality and patient safety
…alone or on a simulator. Some centers have required a minimum number of access procedures performed by joining IR or vascular in the initial part of their endovascular cases."
In addition, she recommends the "Introduction to REBOA Module" that will be part of the next edition of the Advanced Surgical Skills for Exposure in Trauma (ASSET) course. "We hope this brief module will serve as an introduction and a refresher."
Training trauma nurses and scrub techs for endovascular cases
Endovascular trauma teams need experienced interventional radiology technologists to support a variety of basic to complex endovascular procedures. But as discussed in Part I, many hospitals are unable to keep IR techs in the hospital around the clock. As a result, it is important to train regular trauma staff to support endovascular cases.
"There has to be a lot of flexibility from your staff because even experienced trauma nurses and scrub techs will have to learn some things that may be a bit outside their comfort zone," said Melanie Hoehn, MD. "There has to be a lot of education to make sure they understand the procedures enough to be appropriately helpful."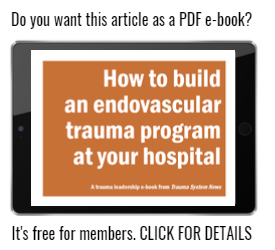 One goal is to become familiar with endovascular equipment and supplies. "Trauma nurses need to have a basic understanding of the different wires and catheters, the variety of sizes, and where the equipment is stored so they can bring you the right thing when you ask for it," Dr. Hoehn said. "When the surgeon asks for a particular wire, the nurse might not necessarily know all the fine details, but they have to be able to at least get what is being asking for on a very basic level. It's not quite as simple as one might think because the equipment can get a little complicated."
Trauma nurses should also become familiar with setting up the table, positioning the patient and other unique steps in preparing an endovascular case.
"Scrub techs have even more to learn," Dr. Hoehn said. "Not only do they need to understand the equipment, but they also have to learn the flow of the procedures." Assisting in an endovascular trauma procedure can be very different from what scrub techs are used to. "They have to learn how to manage and hold wires and put different pieces of equipment together."
Dr. Hoehn recommends scheduling ample in-service training. "In addition, consider doing hands-on training where you double-scrub for endovascular procedures on more stable patients," she said. "All these approaches are useful for getting the staff up to speed."
Next section: Endovascular trauma: ensuring quality and patient safety