The 2019 Creighton Trauma Symposium will take place on June 14 in Omaha, Nebraska. This year's keynote speaker is J. Wayne Meredith, MD, FACS, chief of surgery at Wake Forest Baptist Health. The title of his speech is "Lessons Learned on the Way to the Operating Room."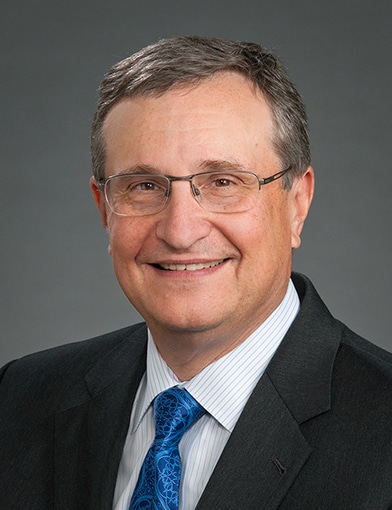 "This talk highlights everything I have learned about how to be happy and successful in trauma surgery, as well as the nuts and bolts of building and running a practice," Dr. Meredith said. "I hope to share a lot of practical wisdom — the wisdom I've learned from making mistakes and also from watching my colleagues, superiors and friends make some mistakes too."
According to Dr. Meredith, one key lesson is to be aware when someone is trying to assist you. "There are people in academic surgery who will offer you things that will help you," he said. "Maybe it's a position on a committee that doesn't seem that exciting or a reminder to always submit papers to a particular organization. You need to keep your eyes and ears open for those helpful hints. Those people are trying to help you, but they are not going to beat you over the head with it."
Dr. Meredith also offers insight on long-term resilience. "One thing I tell young surgeons is to try to avoid 'insatiable desires' because they're very hard to satisfy. I see so many people who have an insatiable desire to, for example, progress up the academic chain." He believes this is the wrong focus. "What most people see as signs of success are actually byproducts of commitment to something that you're passionate about."
Angioembolization, vascular injury, ECMO and more
The 2019 Creighton Trauma Symposium will also cover a full range of topics in trauma surgery, trauma critical care and trauma systems of care. Sessions include:
Intraperitoneal Colon Injuries: The Past, the Present and the Future (Richard P. Gonzalez, MD, FACS)
Angioembolization in Trauma: Have We Gone Too Far? (David A. Spain, MD, FACS)
The Vietnam War, Our Most Painful War: Its Contributions to Vascular Injury Management (Juan A. Asensio, MD, FACS)
Whole Blood 1:1:1 Ratios and Everything Else: The Philosophy Change After the Iraq and Afghanistan Conflicts (John B. Holcomb, MD, FACS)
Trauma and Emergency General Surgery in the Elderly: Challenges in Their Management and Important Perspectives in Care (Orlando C. Kirton, MD, MBA, FACS)
Rescue ECMO: An Evolving Therapy and the Role for Trauma Surgeons (Michael S. Firstenberg, MD, FACC, FAIM)
Colorado's Hot Mess: How Legalization of Marijuana Changed Trauma Care (Stephanie Haley-Andrews, BA, BSN-RN)
Blessed: Global Perspectives on Emergency and Trauma Care (Danielle Dohrmann, PhD, MSN, RN)
40 Years: The History of the Helicopter EMS (Gary Wood, FP-C, FSR)
Current Trends in Air Medical Transport (Jeremy Moore, CFRN)
The Future of Air Medical Transport (Jon Luther, Lead Pilot)
Register to attend
The 2019 Creighton Trauma Symposium is approved for continuing education credit for physicians, nurses, pharmacy and EMS providers.
For full information, visit the 2019 Creighton Trauma Symposium page.
To sign up to attend, visit the symposium registration page.