The majority of trauma centers in the U.S. have seen an increase in the number of patients treated for violent injury in the last 12 months, according to a new survey from Trauma System News.
What are trauma programs doing to respond to the surge? According to the survey, program leaders have focused on increasing the safety of trauma team members, helping patients manage the social and psychological aftermath of violence, and improving their violence intervention and violence prevention efforts.
Multi-pronged approach to surging violence
The Impact of Violence Survey was emailed to readers of Trauma System News on August 16, 2021, and responses were collected until August 26. The goals of this informal survey were to:
Gauge perceived changes in violent injury volumes at U.S. trauma centers
Identify specific actions that trauma centers have taken in response to any increase
A total of 142 trauma professionals responded to the survey, and 26 individuals provided detailed information on actions their centers have taken in response to increases in violent injury.
More than two-thirds (69%) of respondents reported an increase in the number of patients treated for injuries caused by interpersonal violence over the last year. Of these respondents, more than half reported an increase of greater than 10%.
At the same time, a little more than one-quarter of respondents reported no change in their volume of violent injury patients, and a small number reported a decrease in violent injury volumes.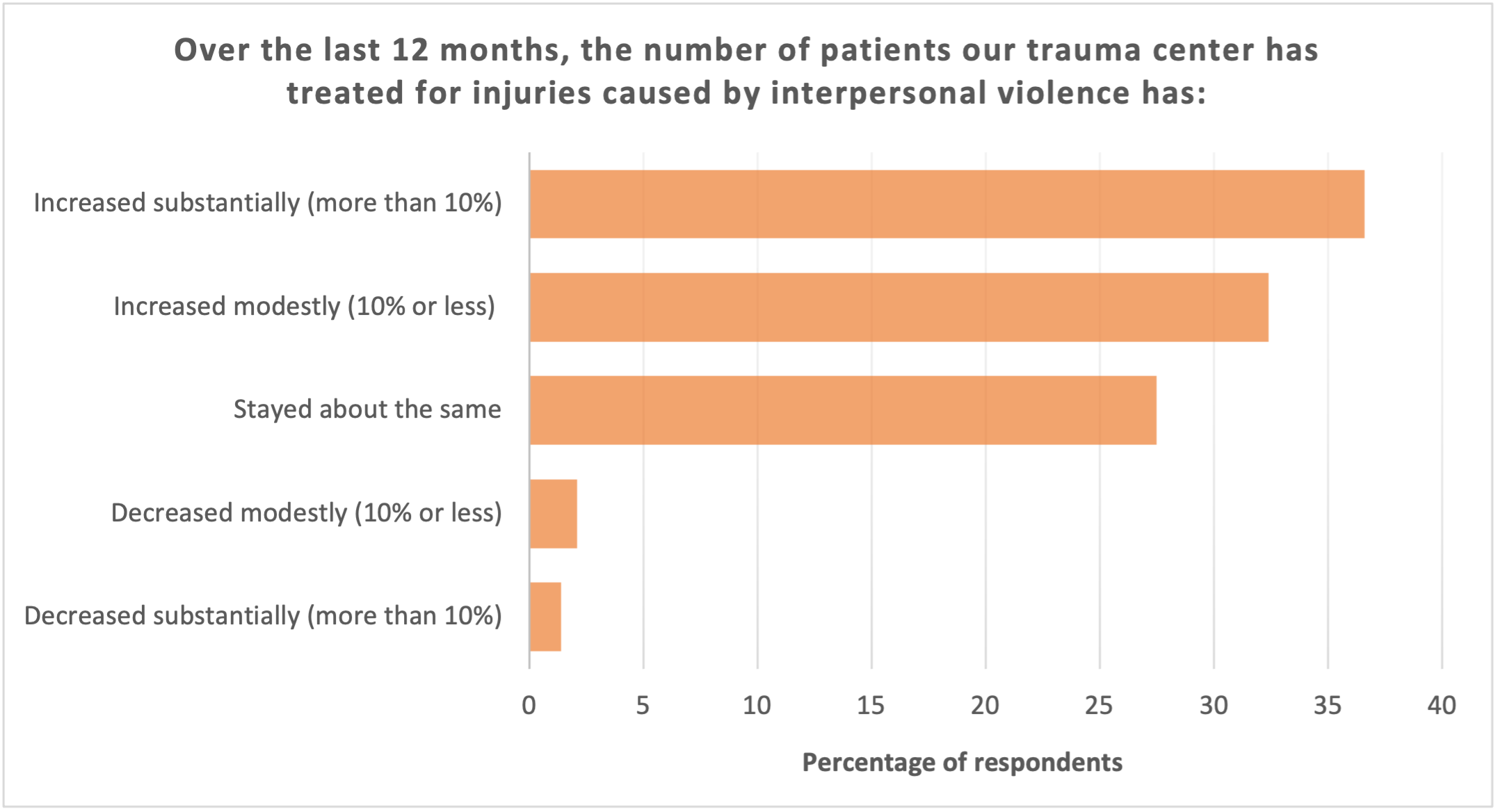 Respondents who reported an increase in violent injury volumes were asked to indicate which changes (if any) their center had made in response. Survey participants could select from a list of 10 actions, with the ability to check all that apply.
The most common action was taking additional measures to protect trauma team members (32%). Other frequent actions were increasing inpatient counseling options (27%) and introducing new injury prevention initiatives (24%).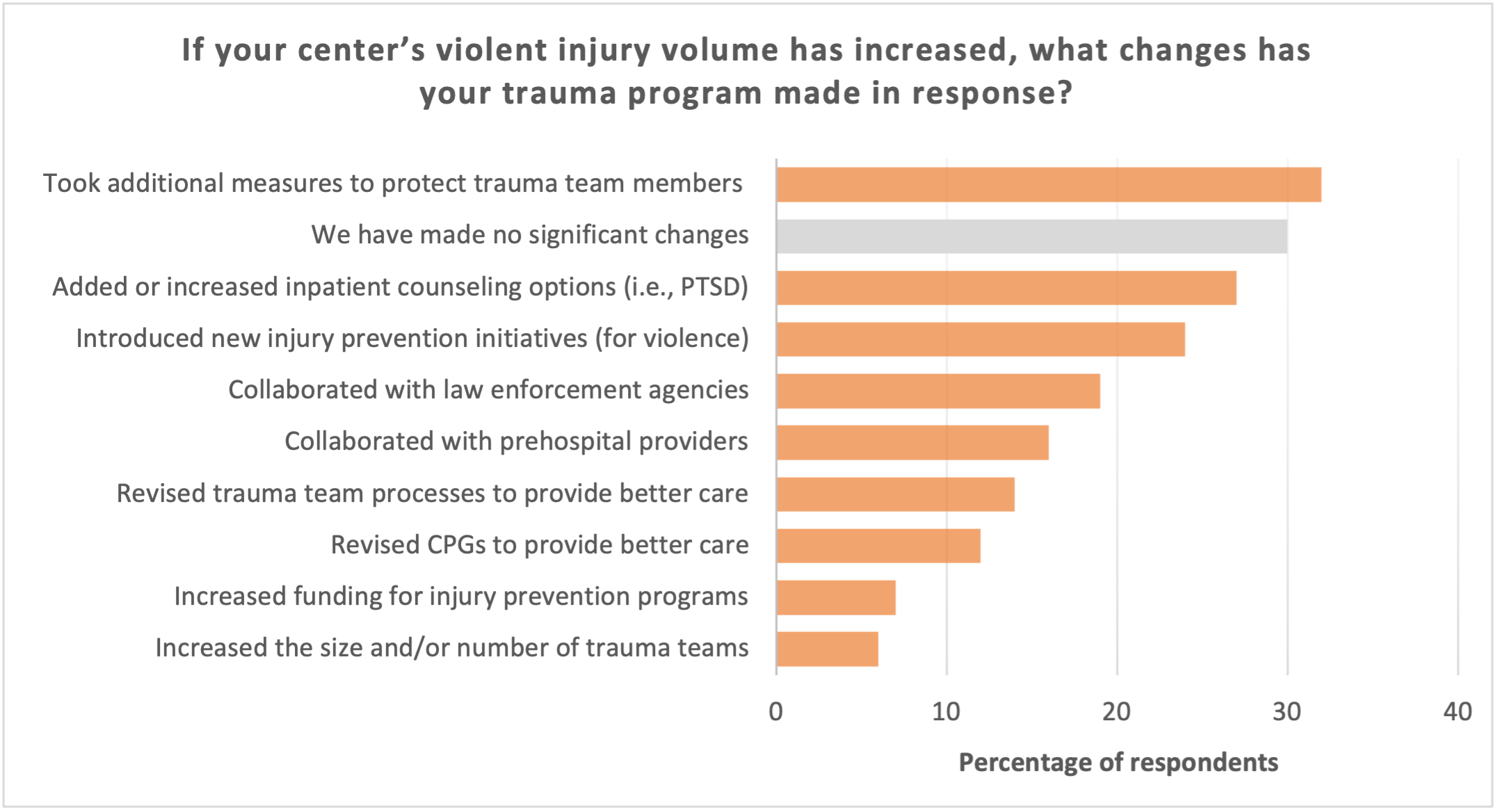 Out of all respondents who reported making any change, about two-thirds took two or more of the actions listed in the survey.
The comments and explanations provided by trauma leaders who responded to this survey are summarized below. (Some responses have been lightly edited for clarity.) Altogether, trauma leaders described 31 different actions their centers have taken to counter the increase of violent injury.
Beefing up protection for the trauma team
Nearly one-third of respondents who reported an increase in violent injury indicated that their center took additional measures to protect members of the trauma team. Several program leaders described an emphasis on staff education.
"We have seen a significant increase in violent patients to our staff," one respondent wrote. "We overhauled our workplace violence committee and came up with new processes and education for our staff to be better protected."
Another individual noted efforts to reduce conflict in family waiting areas: "We revised our policy for confidential patients to maintain safety but also to diffuse visitor/family confrontations," the respondent wrote. "We also discussed changes to how we approach families of victims to decrease racial tensions."
Several respondents described improvements in security processes:
"We worked with security to identify patients appropriate for additional screening with a wand to identify weapons."
"We have law enforcement on standby for our security as well as for any patient issues that may arise."
"We already have security response to the ED for all trauma team activations, but we now also lock down the hospital whenever we receive a significant assault victim (i.e., major blunt assault, GSW or stab wound)."
Addressing the social and psychological burden of violence
Several respondents reported an increase of behavioral health support for violence victims and their family members.
The most commonly reported change was increased staffing for counseling and therapy. For example, one trauma center assigned additional social workers to the emergency department. Another center now couples hospital-based counseling with referral to outside agencies for further support.
Respondents also described programs that include advanced behavioral health expertise:
"Our program will be bringing on a full-time therapist (LPC or LCSW) in September 2021 to work specifically with our HVIP [hospital-based violence intervention program] patients and families in both long- and short-term counseling," one respondent reported. "This therapist will work in conjunction with our established trauma psychologist (PhD), who focuses on outcomes related to PTSD, and our current part-time therapist (LPC), who is focused on long-term outcomes. All positions outside of the trauma psychologist are grant-funded."
Another trauma center has partnered with an academic institution to provide enhanced psychological screening for victims of violence: "We have recently begun a research project with a local university that has PhD behavioral health students rounding and screening all trauma patients for ASD/PTSD during admission then will follow up in their outpatient clinic."
One respondent described an entirely new workflow for addressing the behavioral health needs of violence victims: "We have opened a separate Behavioral Health Triage, which is separate from the traditional ED."
More focus on preventing violence
Respondents reported an increased emphasis on partnering with community organizations to prevent violence. Several wrote that their center has become involved with programs that are based on the Cure Violence model. In addition, one person noted that their center is exploring a partnership with the Health Alliance for Violence Intervention.
Specific activities include leveraging peer mentors to work with victims and sponsoring community-based clean-up events. One respondent reported that their center sponsored a gun lock initiative to promote safe firearm storage.
Several centers were able to increase staffing for violence intervention programs. For example:
"Our trauma center has a well-established hospital-based violence intervention program (HVIP) which already serves survivors of intentional violence related to GSW, stabbing or assault injuries," one respondent wrote. "Over the past two years this program has grown from 1FTE case manager to 5FTE case managers in 2020. Case managers provide intensive case management at the bedside and post-discharge for up to a year to reduce rates of reinjury and retaliation. Our HVIP also added 4 part-time peer support specialists in early 2021 who work with survivors of violence alongside the case management team to engage patients."
Another respondent reported that funding has not yet increased for violence prevention. "But if this volume sustains, we will have justifications for increased registry, PI, injury prevention and outpatient RN staff."
More collaboration with EMS and police
Several trauma programs enhanced the educational support they provide to EMS agencies, with a focus on caring for victims of penetrating trauma and minimizing scene time.
"Our percentage of penetrating trauma has increased over the past 2 years, and it is mostly due to violent injuries," one respondent wrote. "We have worked to provide additional education for EMS on hemorrhage control and management of hemorrhagic shock, including application of extremity tourniquets and hemostatic dressings, and timely administration of TXA."

Another trauma program provided its EMS partners with comprehensive run reviews on cases involving penetrating chest trauma.
Trauma program leaders also reported increased collaboration with local police departments:
"We are working with law enforcement officials to identify problem areas to increase patrols and alter traffic patterns."
"We are collaborating with local public health officials to develop heat maps for violence acts to mobilize more police officers and gun violence prevention resources to those areas."
"We collaborated with local law enforcement, fire rescue and EMS to hold active shooter training."
Adjustments to team processes and training
Trauma program leaders who responded to the survey described efforts to improve activation processes for victims of interpersonal violence.
One person noted an emphasis on speed: "We have worked with our ED and with EMS to improve our activation times for penetrating injuries to enable quicker times from ED to OR and for ED thoracotomy."
At another center, trauma program leaders reviewed the activation policy to make sure the right team members are responding to activations for violence victims.
A few trauma programs increased physician staffing to expand the trauma team's capability. As described by one respondent, "we have hired a surgeon to work full-time in the ED as a consult for the surgical and trauma-related patients who are not activation patients."
Some respondents reported enhancements to staff education. For instance, staff at one trauma center received additional training on chest tubes and ED thoracotomy. As part of this effort, the center purchased an additional thoracotomy tray as well as a rapid infuser.
Two respondents noted an emphasis on treating victims of abuse:
"We received a state grant for intimate partner violence [education]and offered training sessions to healthcare providers statewide throughout the year."
"We are currently working on a process to identify and assist human trafficking victims."
Finally, one respondent noted the role of performance improvement (PI) in the trauma center response to increasing violence.
"We have a 100% review of all higher-level trauma patients to determine whether further education is needed or whether policies need to be revised," the respondent wrote. "Feedback is given to those providers involved."