Results from a large prehospital care study show that patients with severe traumatic brain injury (TBI) benefit significantly from four simple field interventions. The study validates the use of aggressive measures to prevent or treat hypoxia, hyperventilation and hypotension in TBI patients.
The Excellence in Prehospital Injury Care (EPIC) study was led by a team at the University of Arizona, and it included more than 130 EMS agencies. The study focused on existing evidence-based guidelines for the prehospital care of TBI patients, which center on four interventions:
Prevention or treatment of hypoxia through early oxygen administration
Airway interventions to optimize oxygenation and ventilation
Prevention of hyperventilation by using age-appropriate ventilation rates and adjuncts
Avoidance and treatment of hypotension by infusing isotonic fluids
The study included nearly 22,000 patients treated before and after statewide guideline implementation. Patients were stratified into three groups: moderate TBI, severe TBI and critical TBI. The primary outcome was patient survival to hospital discharge. The researchers also looked at patient survival to hospital admission.
The results of the EPIC study were published in May 2019 in JAMA Surgery. Overall, guideline implementation was not associated with increased patient survival to hospital discharge. However, among patients with severe TBI, guideline implementation doubled survival to discharge. In addition, guideline implementation tripled survival to discharge for severe TBI patients who were intubated.
The results support the idea of an "interventional sweet spot" for patients with TBI. "At the moderate end of the spectrum, detecting differences in mortality is unlikely owing to the low death rate," the authors concluded. "But in critical TBI, even optimal treatment may have little effect on survival." Patients in the middle group — severe TBI — seem to benefit the most from interventions meant to prevent hypoxia, hyperventilation and hypotension.
Expert Commentary: What is the best way to implement TBI guidelines?
The EPIC study was made possible by the strong partnership between a Level I trauma center, the state health department and the EMS community in Arizona. However, this implementation model may be difficult to replicate in other regions.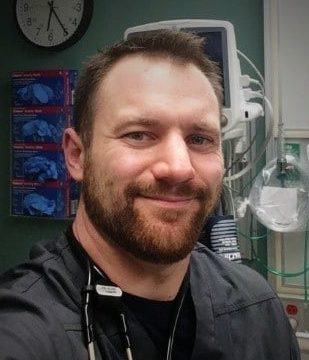 Tim Nowak, AAS, BS, NRP, CCEMTP, SPO, MPO, CADS, is a paramedic, EMS educator and quality assurance specialist who has worked in a wide range of urban, suburban and rural settings. He questions whether the implementation strategy outlined in EPIC will work in most settings.
"Yes, more education on TBI is better — warranted," Nowak said, "but statewide guideline implementation, in my opinion, isn't the 'fix' to this."
One reason is that EPIC's clinical recommendations already exist in many EMS agency protocols and clinical operating guidelines. "In a sense, the study is reinforcing what we already know — or should know, at least," Nowak said. "As such, attempting to implement statewide guidelines may not actually be necessary because many EMS agencies are already appropriately practicing using these guidelines."
Nowak also points out that implementing statewide prehospital treatment guidelines is much easier said than done. "No two states are necessarily the same in the EMS world," he said. "Authority to provide oversight varies drastically between borders, and the inconsistent involvement of direct agency medical directors presents a challenge to the study's recommendations."
Because of the obstacles to statewide guideline implementation, Nowak believes trauma system leaders are better off taking the issue directly to individual EMS agencies.
"Prehospital TBI care actually sounds like a great opportunity to provide some local trauma outreach, rather than trying to push it at the state level and, ultimately, getting caught up in politics, bureaucracy and red tape," he said. "In many regions, trauma center outreach to EMS agency administration and education for EMS providers may be all that's needed."